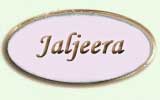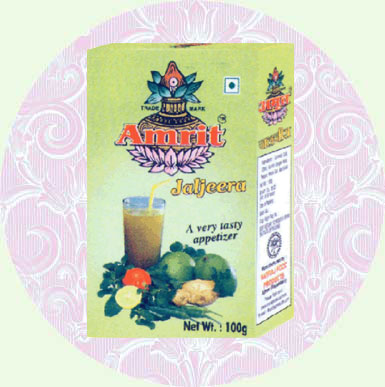 AMRIT JALJEERA
Card Board Pack
Size : Base 7 x 3 cms, Height 11.5 cms
(Net Weight 100 gms)
Jal Jeera is an Indian beverage. In Hindi, "Jal" means water and "Jeera" means cumin. Jal Jeera is similar to lemonade and is a popular summer drink in India. It is generally served as an appetizer as it is intended to startle the taste buds.
We manufacture Amrit Jaljeera for you. The mere thought of the forthcoming summer is enough to drench us with sweat. What better way to beat the heat than to sip a tangy Amrit Jaljeera. Now we have plenty of reason to welcome the scorching heat with the refreshing Jaljeera.

The recipe for Amrit Jaljeera has been developed after conducting extensive tasting and sensory evaluations by consumers. It is a traditional drink which also acts as a digestive. What makes our Amrit Jaljeera so irresistible is that, it can be added to any fruit juice as well. Can you imagine the taste of soups, chutneys, Namkeens, Popcorn and PavBhaji when sprinkled with Amrit Jaljeera. So take on the great Indian summer in a natural 'Cool spicy' way!
Ingredients : Common salt, Citric, Cumin, Mint, Pepper, Black salt, Red Chilli




668/2, Khatrio Ki Bagichi, Pushkar Road
Ajmer 305001, Rajasthan, India
Phone : +91-145-2603535, 2600635 Fax : +91-145-2600635, 2428692
E-Mail : mmanish_ap@yahoo.co.in, info@natrajfoodproducts.com